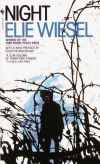 Review of Book: Night
Author: Elie Wiesel
Visit Page
Buy the Book
In Nobel laureate Elie Wiesel's memoir Night, a scholarly, pious teenager is wracked with guilt at having survived the horror of the Holocaust and the genocidal campaign that consumed his family. His memories of the nightmare world of the death camps present him with an intolerable question: how can the God he once so fervently believed in have allowed these monstrous events to occur? There are no easy answers in this harrowing book, which probes life's essential riddles with the lucid anguish only great literature achieves. It marks the crucial first step in Wiesel's lifelong project to bear witness for those who died.
***

This book gave me chills. All I can say about it is... Wow. I recommend this book to anyone and everyone. It depicts the world that we are, again, about to enter. Since there aren't enough words to accurately define how I felt about this book, I'll let past reviews speak of
Night
for me.
This book deserves a ten. If I could, I'd offer it an infinity.
***

What Others Said About the Book

"...a slim volume of terrifying power [and] a remarkable closeup of one boy's tragedy..." - Gertrude Samuels, The New York Times Book Review

"...There is a unique quality in the experiences of a child in hell... His book deserves to be read by everyone who is deeply concerned about the future of civilization." - Saturday Review

"There is no superfluous flesh on this gaunt and powerful narrative... It is a profound spiritual document, an affirmation by negation." - The New York Herald Tribune Books

"A striking narrative... read it if you dare." - Jubilee: a magazine of the Church

"Wiesel reminds us of the spiritual suffering and sacrifice no man can measure... but to the believer, to the Christian, he penetrates with special force." - James Finn, Commonweal

To view my list,
Click here.